Why Work with a Sustainable Interior Designer?
Sustainable Interior Designers Help Salvage and Create Harmony
Working with a Sustainable Interior Designer broadens the design experience to more than making earth friendly choices. It's about making people feel great in their homes. It's a holistic approach. As well as incorporating design choices that have a low environmental impact, a key focus is the residents' well-being in the home, their enjoyment, and a touch on style that transcends trends and promotes a long lived future.
What Does A Holistic Approach Really Mean?
A holistic approach to design is like a visiting naturopathic doctor. A naturopath will dive into your nutrition, exercise, relationships, and connections to your outer world. Similarly, with sustainable design, time is spent on understanding who you are, how you participate in your home environment, and what makes you happy in your space.
For example, sustainable Interior Designer Christine Tanaka of Harmony Interiors in Minneapolis, Minnesota has always been pulling into practice sustainable ways of living. She is environmentalist at heart, applying that intention throughout her household management career, and subsequently into her remodeling and decorating interior design career thereafter.
With more than 40% of landfill waste coming from construction and deconstruction, Christine saw how much waste occurs when sustainability is not the focus. She creates designs with the intent to last the decades, not a short-term fad. More permanent improvements are made with neutral colors and durable products that will last beyond trends and tenants.
This means Christine will work to find more timeless material that appeals to the client for the more permanent updates. Tile colors are neutral. Chroma can then be accessorized through paint and furniture.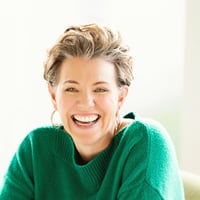 How Clients Benefit
Christine considers, "How can we make a home space that supports us, but no so by taking on the environment?" With that in mind, working with eco-friendly designers provides:
Efficient removal of old household items that can be resold, gifted, or repurposed.
Recycling deconstruction materials when possible, versus going directly to the dump.
Introduction of new items sought out for quality, durability, and environmental impact.
Uniqueness in the new space through local or online architectural salvage finds.
The Ripple Effect of Sustainability
Through working with sustainable interior designers, you create a ripple effect that reaches far beyond your personal sphere. Designers align with organizations like:
US Green Building Council

"leading the transformation of the built environment to make it healthier and more sustainable."

The Good Future Design Alliance

(GFDA) bringing together a "community of design + build professionals committed to reducing our waste."

Recapturit

- an online marketplace exclusively for architectural salvage connecting buyers and sellers and keeping valuable materials, one-of-a-kind materials, and historical artifacts out of landfills.
Paying it Forward – Sharing the Benefits of Sustainability
As a designer, Christine is also creating presentations to educate others on sustainability. Upon joining the GFDA, she offered to participate in launching a Minneapolis chapter this fall. "This event will be for everyone (builders, architects, vendors, etc.) who are interested in joining our efforts. It will be a great introduction for everyone to see what is happening with sustainable design on the local level and to see what we all can do to make things better."
Additionally, the program is for students who intend to go into the building industry, including interior design students, architecture, and trade students. "We will be asking students to become members and in exchange we will be engaging them in the discussion of sustainable design, introducing them to sustainable resources and vendors, and sharing with them how sustainable objectives can be reached on real world projects."
Furthermore, "if they are up for a leadership role, they can become a GFDA ambassador at their school. Their job would be to recruit other students and to raise awareness about sustainable design through a variety of campus events." And so, the ripple continues to flow.
Contribute to the Betterment of the Planet
Working with a sustainable interior designer means contributing to the wellness of the planet while creating a sacred dwelling. Whether you have kids or not, the fact is, we have younger generations who will be impacted by the choices people make today.
Why not pick an interior design that's cozy for you, all the while, taking a proactive approach toward reducing the burgeoning carbon footprint?
---